LINK Physical Therapy specialties include:

pelvic/abdominal health
women's/men's health
spine/muscoloskeletal care
prenatal/postnatal care
bladder/bowel health
Who We Are
Judith Florendo, PT, DPT, was the founder of Florendo Physical Therapy, a successful and well-respected pelvic physical therapy private practice in downtown Chicago, where she practiced for nearly two decades.
Suzanne Badillo, PT, WCS, served as Clinical Program Director of Women's Health Rehabilitation at the Shirley Ryan AbilityLab (formerly Rehabilitation Institute of Chicago) and is board certified in women's health/pelvic health physical therapy.
Judith and Suzanne had a vision of combining their over 35 years of experience in musculoskeletal and pelvic health physical therapy to increase impact in the community through strong clinical care, community outreach and education, and wellness services to empower individuals regain control of their health and quality of life. In September 2017, Judith Florendo & Suzanne Badillo, joined forces to form Link Physical Therapy.
Our Mission Statement:
Link Physical Therapy was founded upon the value that robust physical, mental, and emotional health and optimal quality of life are intertwined. As leaders in the field of pelvic health, we are committed to unique facets of the health, education, and wellness of our community.
By optimizing one's fundamental, essential human body functions, we empower individuals to advance their performance and quality of life to their full potential.
Non-Discrimination Policy
Equal care will be provided to all patients, regardless of age, race, ethnicity, physical ability or attributes, religion, sexual orientation, gender identity or gender expression.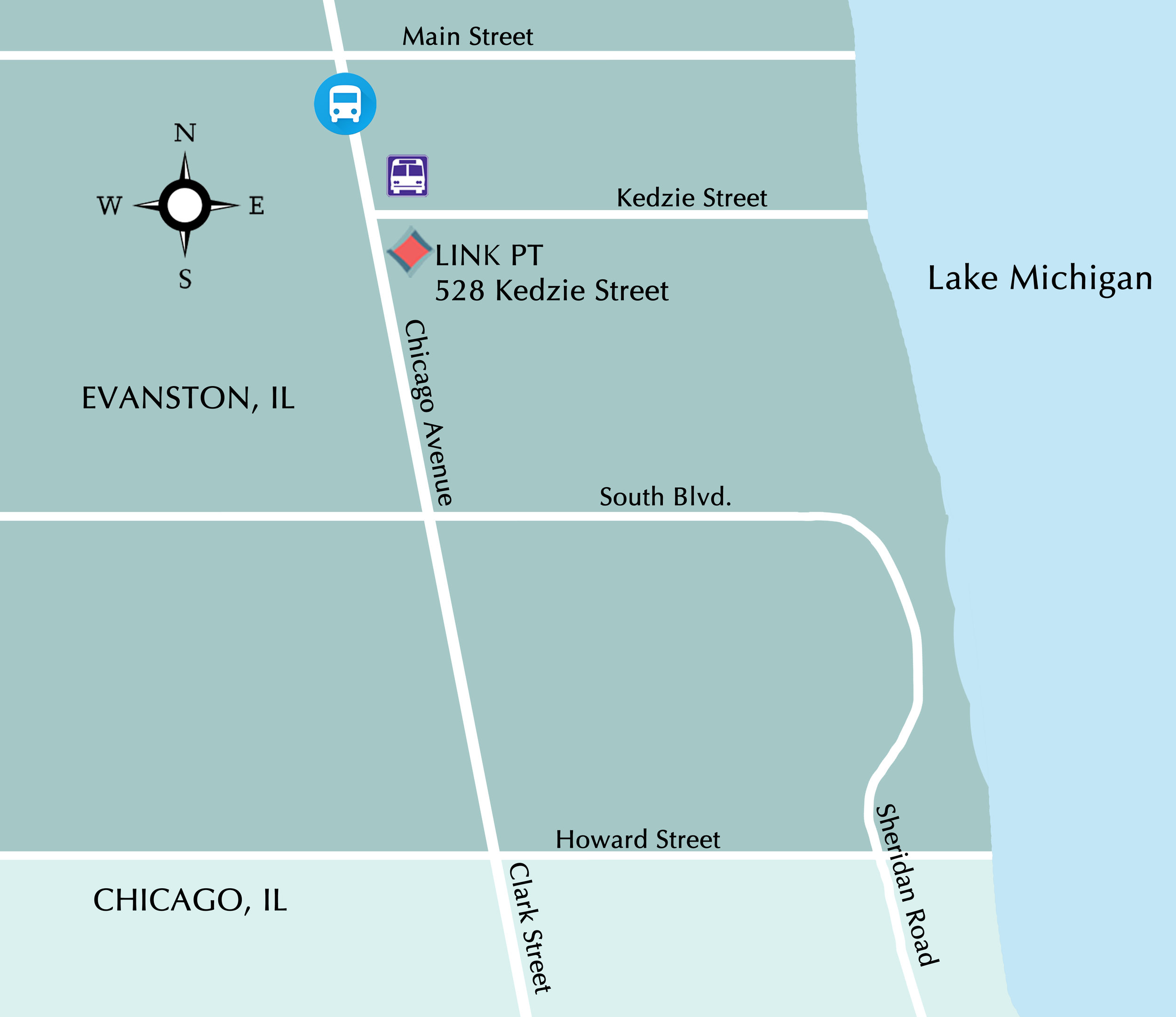 We are located in southeast Evanston, conveniently
close to public transportation and street parking.
Parking: Metered and non-metered street parking is available on Kedzie Street and the neighboring streets (Chicago Ave or Hinman Ave).
CTA: Purple line - Main Street
Metra: Union Pacific-North (UP-N) Line - Main Street
Northwestern Intercampus Bus: Chicago Avenue/Kedzie St. stop
528 Kedzie Street.
Evanston, IL 60202
Telephone: (847) 868-8396
Fax: (847) 905-0218
info@linkpt.org